9 Best Website Builders for YouTubers
Find the right solution for promoting your videos and products online as a YouTuber.
We earn a small commission when you buy through links. Learn More
As a successful YouTuber, you understand the importance of online presence beyond the platform where you upload your videos.
A well-designed website can serve as a hub for your content, bio, and brand, attracting new viewers and providing existing fans with a central location to learn more about you and your work.
In this article, we will guide you through the various website builder alternatives available for showcasing your videos and bio online and promoting your products.
👉 Best Website Builders for Youtubers:
1. WordPress
2. Elementor
3. Bluehost Website Builder
4. NameCheap Site Maker
5. Hostinger Website Builder
6. WooCommerce
7. Duda
8. Wix
9. Shopify
Showcasing Your Videos and Bio
Whether a beginner or a seasoned content creator, many alternatives are available to help you create a website that showcases your content & work and connects you with your audience.
Here are some options for YouTubers looking to create a website for this purpose:
1. WordPress
WordPress is a popular platform for building websites of all kinds, including those for YouTubers. With access to a vast library of themes and plugins, you can easily create a website that fits your style and showcases your content in a visually appealing way.
Some popular WordPress themes for YouTubers include:
However, WordPress requires technical know-how and ongoing maintenance, so it may not be the best choice for everyone.
2. Elementor Page Builder
Elementor is a robust and user-friendly WordPress website builder that offers many components and customization possibilities for YouTubers looking to make a professional and attractive website.
Elementor is a highly recommended choice for YouTubers who want a flexible and easy-to-use website builder and want to stick to WordPress.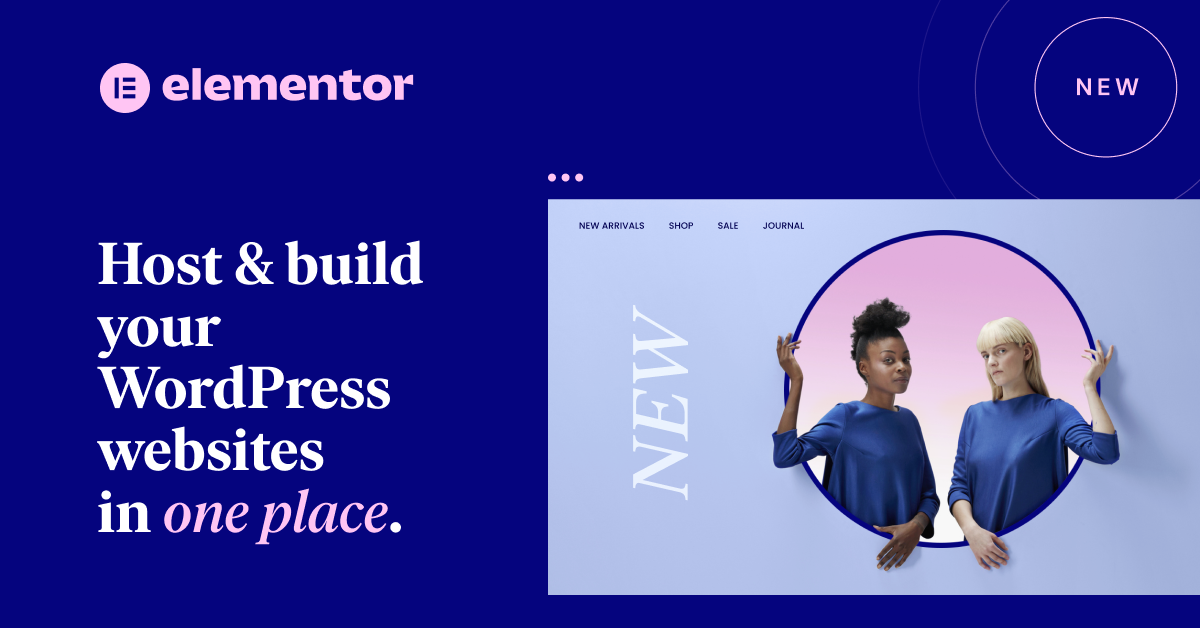 3. Bluehost Website Builder
The Bluehost Website Builder is the perfect choice for YouTubers seeking a straightforward solution to create a website to showcase their videos and profile. Its drag-and-drop interface makes it effortless to design a website, even without any technical know-how.
You can select from various pre-designed templates and personalize them to match your brand and style with the Bluehost Website Builder.
4. NameCheap Site Maker
Like the Bluehost Website Builder, the NameCheap Site Maker offers a user-friendly approach to creating a website without technical skills.
With the NameCheap Site Maker, you can easily add and arrange text, images, and YouTube videos to create a visually stunning website that showcases your content.
5. Hostinger Website Builder
The Hostinger Website Builder shares similarities with both the Bluehost Website Builder and NameCheap Site Maker, as it is intended for users without technical expertise.
This option is ideal for YouTubers who want a professional-looking website without the hassle of learning complex technical skills.
Promoting Your Products (or Services) as a YouTuber
There are several alternative website options for YouTubers who want to monetize their content and promote their products or services.
This section will explore popular eCommerce website solutions you can use to sell your offerings online.
6. WooCommerce
WooCommerce is an open-source eCommerce plugin for the WordPress platform.
WooCommerce is ideal for YouTubers who want a powerful and flexible eCommerce solution, but it does require some technical knowledge and skill to set up and manage effectively.
If you're uncomfortable with coding and technical setup, consider other eCommerce options, such as Duda.
7. Duda
Duda is a website builder offering an easy-to-use solution for YouTubers seeking to create an e-commerce website.
With drag-and-drop design features and integrated eCommerce tools, Duda provides a comprehensive solution for those without coding experience to launch an online store.
8. Wix
Wix is a website builder that offers a range of eCommerce functionalities, making it a popular choice for YouTubers who want to start selling products online.
Wix may be a good option for you. However, if you're looking for a more robust and customizable solution, consider other eCommerce options, such as WooCommerce or Duda.
9. Shopify
Shopify is a popular cloud-based solution that requires no technical setup.
It is a good option for YouTubers who want to start selling products online quickly and easily.
However, Shopify can be pretty expensive compared to other eCommerce solutions, with monthly fees and transaction fees adding up over time.
Why Every YouTuber Should Have Their Own Website
With your own website, you can showcase your videos, promote your brand, and offer your products and services in a centralized location.
As stated in Why Every Business Needs a Website, having a website allows you to control and personalize your online presence, providing your fans and potential customers with a professional and memorable experience.